TEMPWARE introduces a new electric garage heater perfect for work in the garage on a chilly day
TEMPWARE, a brand proficient in helping people improve their air quality and bring them profound warmth and comfort, is introducing a fan-forced electric garage heater with 7500-watts power and digital panel.
When winter comes, there's only so much wool socks, blankets, and fuzzy fleeces can do, especially if the heating in your building hasn't been switched on yet. Garage heaters can be a fast and economical way to warm things up when temperatures dip — a beneficial tool to keep on hand in emergencies. TEMPWARE's portable device allows one to bring an effective boost of heat where it is most needed—at the garage.
TEMPWARE'S combination of innovative technology and stylish design makes their electric garage heater the number one choice in the realm of heaters. The company's garage heater has adjustable louvers and variable mounting angles to direct air output. The maximum of 25,590 BTUs is powerful enough to heat a large area of up to 1,250 square feet. Power ranges from low to high of 6,250 to 7,500 watts to meet your different needs.
TEMPWARE is on a mission to spread its products as widely and efficiently as possible, so it can improve living standards across present-day civilizations. With a built-in precise temperature sensor, the smart ECO mode of the garage heater automatically adjusts the working mode or turns off based on the ambient temperature. The user can also set an auto-off timer (1-12 hours) to save on energy bills.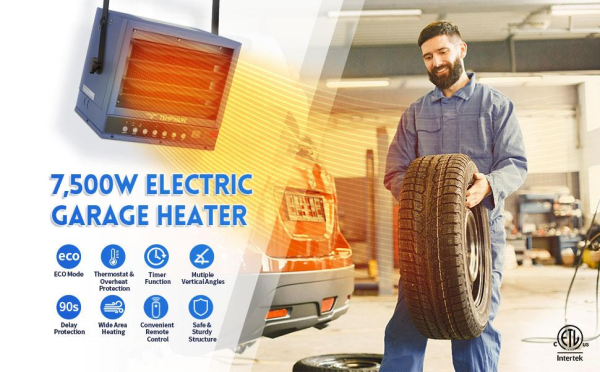 "Our garage heater is equipped with a built-in thermostat. You can adjust the power to suit your needs and preferences (from 45°F to 95°F). And a built-in sensor switches the device off automatically if it overheats," said the CEO of the company.
One of the standout features of TEMPWARE's garage heater is its durability. The electric garage heater is made of heavy-duty steel, which is very strong and durable and has a long service life. In addition, the heater is ETL certified to ensure your safe use.
TEMPWARE notes that users will need an electrician to safely install the electric garage heater due to its hardwired installation. The garage heater must be grounded and hardwired to a properly sized current protection circuit breaker per the (US) National Electric Code and local codes.
TEMPWARE's electric garage heater has attracted rave reviews from its users. "My previous garage heater was damaged, and I've been looking for a replacement. The winter came with biting cold, and working in the garage became practically impossible. All these changed when I bumped into TEMPWARE's electric garage heater, and I must confess, it's what I need and more. I'll recommend them to my colleagues. They are the best!" declared Ben, an excited user from New York.
For an in-depth look at TEMPWARE's electric garage heater, check out the company's page on amazon.
Media Contact
Company Name: TEMPWARE
Contact Person: Iris
Email: Send Email
Country: China
Website: https://www.amazon.com/tempware